Effective Scanning Techniques You Can Use In Karuna Ki Treatments
Like Usui Reiki, Karuna Ki has no specific hand positions. Healing with Karuna Ki requires a more intuitive approach. Scanners are used. The Karuna Ki practitioner is also encouraged to use their intuition when placing their hands.
In a typical Karuna Ki treatment, practitioners do the first four Usui Head positions. Then they will scan for changes in the energy field and treat them. Finally, they will allow their hands to be guided to any area that may require treatment. Alternatively, you can use the Usui Reiki hand positions, which also work well.
Below are some effective scanning techniques you can use in Karuna Ki treatments.
Karuna Ki Scanning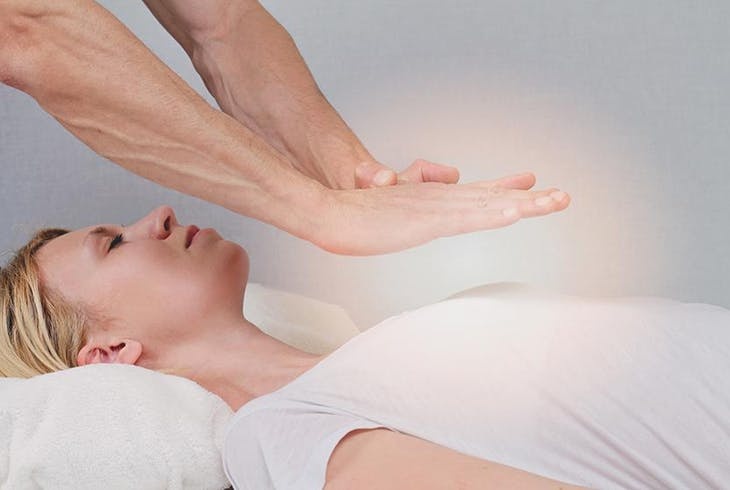 Karuna Ki Scanning can be done using basic scanning techniques or an advanced process, including the mudra "Kai." Both work. Using the Kai Mudra regularly helps develop problem-solving skills.
Karuna Ki Mudras
This style of Karuna Ki incorporates two mudras. Kai is used to developing treating intuition. Health, clarity of mind, and purpose are all achieved using Sha to develop and strengthen the Karuna Ki Channel.
Karuna Ki Meditation To Develop And Strengthen The Channel Using The Sha Mudra
Sha Mudra And Healing Meditation
This Sha Mudra meditation helps develop and strengthen the Karuna Ki Channel. All Karuna Ki students are taught this and encouraged to practice daily. Consistent practice helps cultivate compassion for all beings and clears the mind.
In Japanese, this Mudra is Sha. Some Tibetan arts and Ninjutsu use it as well. Shamanic Healing is used to develop and strengthen the inner channel. Those who mastered Sha's Inner connections would gain inner power and be immune to viruses and other afflictions. The index and thumb fingers are extended and interlocked in this Mudra. Sha is a great mudra to use while meditating. You can use the Sha Mudra while doing any Karuna Ki Meditations. It can also be used to heal. Place the hands in Sha, connect to the Karuna Ki energy, focus on the source's compassion, and let the energy flow into the hands. Then split the palms and heal.
Sha heals oneself and others. The meditation below uses this Mudra to increase our health, vitality, and healing strength. The exercise below can helpfully develop Sha. First, do the Sha Mudra. This activity helps connect the body's pathways. The body's energy pathways are linked by forming the Sha Mudra with the hands. Heal and know. The activity increases inner strength, opens channels, expands the mind, and removes fear.
Inhale and exhale through the nose. To relax, focus only on your breathing. If that's too difficult, count to seven on the inhalation and exhalation. Other thoughts should be ignored and let go. Focus on the body's energy flow and the spirit's flow.
A Fire burns within us, behind the hara, in the Personal Chi area. This meditation strengthens us, reduces stress and anxiety, and increases our ability to channel the compassionate, loving energy of Karuna Ki (or Reiki, etc.).
Focus on or behind the Hara (solar plexus). Some see it as a ball of light, fire, or heat. Visualize the fireball behind the Hara. Activate Karuna Ki or Reiki. This activity focuses on the fire to make it brighter, warmer, and more luminous throughout the body.
The loving light energy (Reiki or Karuna Ki) enters through the crown as you breathe in (top of head). See the energy move down behind the Hara area and fill it, growing and brightening the light there. You'll be pumped. Allow the energy to expand outwards and through your body, reaching the top of your head, the tips of your toes, and the tips of your fingers. Observe it spread to all organs. Hold the Mudra between the sternum and the hara. Inhale through the hands into the hara, and exhale through the hands. Do this for ten minutes.
Refocus the mind on the Hara. Allow your consciousness to normalize. Shake your hands three times, then your feet three times. You can do this activity at any time by using the Mudra, concentrating on breathing, and increasing the light. Regular practice strengthens the body and mind and increases vitality. The hands will be very hot during and after this, just like Karuna Ki or Reiki. Other Kuji-in hand positions work too.
Scanning And Mudras
Hand Scanning
This is the traditional Karuna and other systems scanning technique. Scanning is putting your hands into someone else's energy field to see any differences. You are seeking something unique.
Look for hot, cold, tingling, and obstructions. Begin at the top and work down to the feet.
Begin 2 inches (4.5 centimeters) above the person's body. Make a second pass at 6 inches (14 centimeters). Scanning is a skill that takes a lot of practice to master. (Remember, you cannot diagnose without a medical license!) This is a tool to help treat. Notate the areas that feel different. Ask your client if the area has any specific illnesses. This is done to find areas that need more attention. This is also done to guide hand placement in Karuna Ki.
Karuna Ki Scanning Method
Vinny Amador designed this scanning method for Karuna Ki. It uses a hand position or Mudra and the third eye to develop intuition to find problem areas.
The Japanese call this Mudra Kai. It's also used in Tibetan and Taoist arts and Ninjutsu. Kai is used to releasing passions and desires, predicting danger, sensing energy, and inner knowing. The Taoist master who achieved Kai was said to "know what cannot be known." When our minds are clear, and our thoughts are stilled, we can sense our surroundings. Kai is a psychic activation that allows us to see beyond sight. This Mudra interlocks the fingers.
Place your hands in the Kai mudra, close your eyes, relax, and take several deep breaths. Focus on Karuna Ki, the Ultimate Source of Compassion. Inhale energy into hands, then into Hara. Allow them to expand. Bring it into your hands. Inhale the energy into the Hara and exhale it through the hands, radiating outward compassionate energy. Bring the connected hands to the third eye's level and place the thumb knuckles against it. Concentrate on the third eye. Breathe through your hands. After that, visualize the Gnosa symbol and any other Karuna Ki Symbols that come to mind. Allow any "seen" or "felt" sensations. You will feel the third eye open. It will feel like a tingling or a pressure behind the forehead. Wait until you have separated your hands and are ready to start scanning with your palms. Keep focusing on the third eye. Impressions are "seen," not with the eyes, but with the heart. This method also aids in developing the third eye and intuition and focuses on the compassionate source of Karuna Ki's energy. This keeps us focused on universal compassion.
Distant Scanning Method
Both Hand Scanning and Distant Work are used in this method. Concentrate on the person to be scanned. You can use a picture, letter, or other items to help you make the energetic connection. Do the Karuna Ki Scanning hand and third eye connection. Then extend your palms toward the person. Soak up the person's energy field with your hands. This may seem odd, but it is generally felt. Feel the field by moving your hands or visualizing it. Treat those areas with distant sending/healing. This method can also be used on a stranger.
Conclusion
Karuna Ki is wonderful for strengthening one's ability to heal on all levels. It is understood that Karuna is extended to others not only out of love but also because it is logical. Just as you want to heal your wounds, you want others to heal as well.