The 5 Reiki Principles
Other than Reiki, we will discuss various other methods of working on your personal growth and spiritual development, such as meditation, visualization, and working with spirit guides and angels. But first, we will look at the principles that Dr. Usui believed would aid his students in their spiritual development—the Reiki Principles.
What Are The 5 Reiki Principles?
Doctor Usui recognized the need to assist his students in their personal and spiritual development to enhance their healing abilities. As a result, Dr. Usui developed the Reiki Principles, which were inspired by some admonishments written by the Meiji Emperor, and used them as guidelines for a reasonable and suitable way of life. In the Western world, there are various variations of these concepts, but the two most widely known are as follows:
From The Reiki Alliance And Some Independent Reiki Masters
Just for today do not anger.
Just for today do not worry.
Honor your parents, teachers and elders.
Earn your living honestly.
Give thanks to every living thing.
From The Radiance Technique (set up by Dr. Barbara Ray)
Just for today I will let go of anger.
Just for today I will let go of worry.
Today I will count my many blessings.
Today I will do my work honestly.
Today I will be kind to every living creature.
All of the Western versions are definitely based on what Mrs. Takata taught, but newly found forms in Japan, when translated into English, are likewise very similar to the Western versions. Dr. Usui's memorial includes the following passage, which has been translated into English: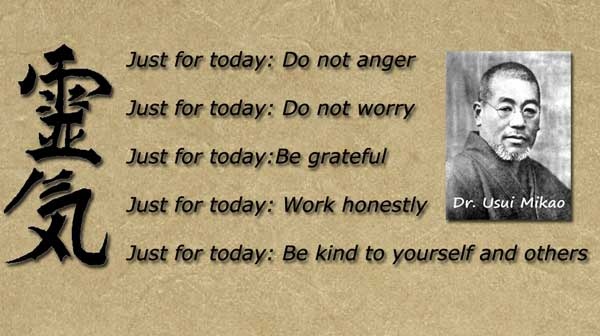 When it comes to teaching, first ensure that the students fully comprehend the Meiji Emperor's admonitory, and then have them chant and keep in mind the five warnings, which are as follows:
Do not get angry today.
Do not be grievous.
Express your thanks.
Be diligent in your business.
Be kind to others.
Dr. Usui wrote an original document that was the basis for one of the versions available today. You can see that there is some inconsistency—for example, the phrase "honor your parents, teachers, and elders" does not appear to be in the Japanese versions, suggesting that Mrs. Takata introduced it, but because it is so familiar to many Reiki practitioners, it is included here for completeness.